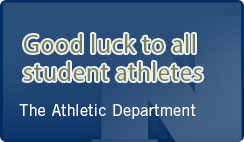 Golf
***Any student athlete who has tested positive for COVID-19 AT ANY TIME must complete the Return to Play protocols. If you have already completed the RTP protocols with the NHS Trainer, you have met the requirements. Click HERE for details.***
Varsity sports contests will be live streamed on the Newington High School YouTube Page, when available.
Visit and subscribe at http://youtube.com/newingtonhighschool605 for all of your Nor'easters Sports Coverage!
Girls Golf
The Pessimist Sees Difficulty in Every Opportunity, The Optimist Sees Opportunity in Every Difficulty.
The Harder the Course, the More Rewarding the Triumph.
1. First Practice - March 19, 2022
2. First Schedule Game - April 6, 2022
3. Practices are Mondays - Fridays at 2:45 pm mostly at Indian Hill Golf Course, with some early season practices at Stanley Golf Course Practice Range.
4. There are NO weekend practices with the team, however you may play/practice on your own (always hoped for by the coaches)
5. To prepare for the spring Stanley Golf Course Practice Range is open during the winter with heated hitting areas. If you go as an individual the prices are: $6 for a small bucket (33 balls) - $9 for a medium bucket (66 balls) - $12 for a large bucket
(99 balls) ........if you go as a group of 2 or 3 Your prices are reduced: a $9 medium bucket (66) or 33 for each of 2 is only $4.50 each person OR a large bucket for two people is $6 each for 49 1/2 balls each. Or 3 people sharing a large bucket can hit 33 balls each for $4 per person. So go with your teammates and save $$$$
6. First MKMS and JWMS Golf Club session - Date: Saturday, December 4 Time: 10:00 am Location: Stanley Golf Course

|

|

Share